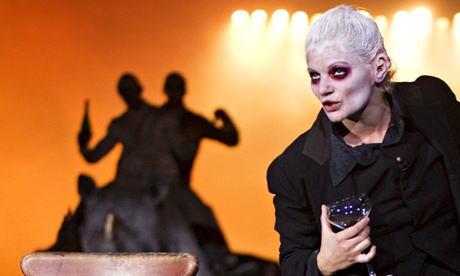 Romanian playwrights are taking an unflinchingly look at their country with targets matching those of their British counterparts
The work staged this month at an international theatre festival in Sibiu, the former capital of Transylvania, proved a fascinating counterpoint to Nigel Farage's recent remarks about having Romanians for neighbours. One of the country's leading directors and writers, Gianina Crbunariu, was represented by her documentary drama about Securitate persecution, Tipografic Majuscul, and a new fast-paced satire, Solitaritate. The latter showed just how angry Romanians themselves can be in attacking their own country and how each target of the play (crooked politicians taking more than their fair share from the national purse, middle-class couples ill-treating their maids, populist politicians cashing in on racist sentiments) all had British parallels. If you altered a few local references, you could put this on at the National as a state-of-England play (and I sort of hope someone does).
Dreaming Romania, a student piece also being shown as part of the main festival the lack of a distinction between an international director and a student company felt truly revolutionary offered a similarly angry critique of everything from the futility of protesting to the anarchy of social service provision. Although, performed without surtitles, the most exciting thing for the non-Romanian speaker was the semi-improvised, almost chaotic way the performers jostled for attention and talked over one another in a way that doesn't happen enough in theatre.
Source: The Guardian