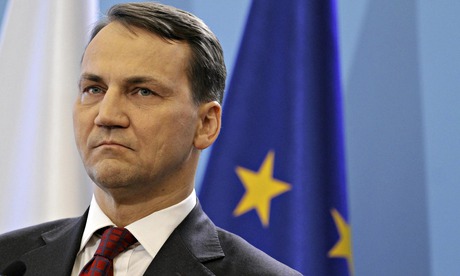 Much like Labour, the prime minister is guilty of neglecting eastern European countries, and the Sikorski tapes prove it
Gordon Brown used to infuriate other European heads of government in meetings of the European council by removing his headphones through which interpreters were relaying the comments of leaders he deemed insubstantial. David Cameron is hardly more subtle: he has been known to fiddle with his iPad in a manner that, according to diplomatic sources, demonstrates semi-detachment from the proceedings.
That will not be the case during discussions in Ypres later this week. The prime minister will have to be engaged because he is a lead actor in the principle drama of the occasion: Britain's determination to stand in lone defiance of Jean-Claude Juncker's nomination as president of the commission. Britain, it must be added, is far from alone in thinking Juncker is a bad choice, but has ended up adopting a sore thumb strategy: sticking out in hope of receiving palliative treatment on some other point of contention further down the line.
Source: The Guardian